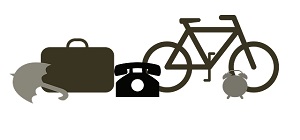 Many of my favorite items in my house were purchased at estate sales. I absolutely love estate sale shopping, because you can find amazing, high quality items at very affordable prices. Estate sales are basically garage sales on steroids. Instead of exploring items on somebody's yard or driveway, you have access to their entire house. You'll be able to shop treasures of all kinds such as furniture, kitchenware, home decor items, clothing, toys, books, and much more. The prices are typically above yard sales prices, yet still extremely cheap and reasonable. Over the years I have been to many estate sales and have learned a lot of strategies and tips to make the most of your experience. Here are my top suggestions for estate sale shopping.
1. Go Early!
The old expression, "the early bird gets the worm" is so true in the world of estate sales. Usually an estate sale will start at 8 am, but they can start as early as 7. You want to be there when the sale opens, because you will be competing with all the shoppers for the best finds. Let me tell you from experience that the best items tend to sell early in the morning.
2. Wait For the Sale
Generally the last day of the sale will be a 50% off day where all the items will be marked down. This is the day to go find treasures! Sometimes, if you are especially lucky the estate sale owner will be looking to make deals with customers to clear out the inventory. In this case you can get deals for bundling and purchasing several items. On 50% off days, don't be afraid to ask for special deals or additional discounts.
3. Scope Out the Sales on Estate Sale Sites
In my opinion the best website to find out about estate sales is hands down EstateSales.net. Simply enter your zip code and the site will give you a listing of all the sales in your area. Make a plan the night before to determine which sales you want to visit. EstateSales.net also shows you teaser pictures of items available at the sale, so you can determine if the sale has items you'd want. Get an idea of what items you like even before you go to the sale.
4. Thoroughly Inspect Your Items Before Your Buy
This is a good rule of thumb anytime you are buying something secondhand. Make sure that you really look through the items, because you won't have any opportunity to return your purchases. If you are purchasing clothing, try to look at the items in natural light. I learned the hard way that sometimes you can't see certain stains or holes until you look over the garment in bright light. If the garment has zippers make sure the zippers work too.
5. Bring Cash Just in Case
While many estate sales do allow credit and debit cards, many do not. Make sure you have plenty of cash just in case.
6. Bring Bags or Boxes
Many times estate sales don't have bags or boxes for customers to help them carry their purchases. Plan ahead and put some bags or a box in your car to help you transport your treasures home.
7. Auctions
Sometimes an estate sale has tons of items and they just can't sell through it all in a couple days. Many times, when the estate sale company thinks this will happen, they will plan an auction for the end of the sale. The auction will typically occur in the afternoon on the last day of the sale. It is not typically advertised to the public. I can't even express what amazing bargains can be found at these auctions. They can be worth your time and effort. If you are interested ask the estate sale clerks if they plan to have an auction at the end of the sale. If you express interest they will likely extend you an invite.
8. Get on The List
Just like you want to be on a VIP list, you also want to be on an estate sale company's email list. Many estate sale companies have email lists of customers that want to be informed about special sales and promotions. If you go to an estate sale that you really enjoy, ask if they have a list so that you can be in the loop when new sales occur.
9. Search in a Variety of Locations Around Your City
A lot of people think that to get the best stuff you should only attend sales in more affluent and wealthier parts of the city. This is simply not true. I think it is important to explore all around your city when estate sale shopping. If you are searching for antiques, it is sometimes good to attend sales in areas of town that are historic or are known for being more eclectic neighborhoods. Also, areas or suburbs that have a lot of seniors can also be great for finding antiques.
10. Don't Buy Something Just Because it is Cheap
When people first go to estate sales they often get very excited by the prices. While deals are exciting, make sure that you aren't buying something just because it is cheap. Make sure the item is actually useful and that you have a plan for it when you get it home. Would you be interested in that item even if it were more expensive? If the answer is yes then that should make you more confident that the item is truly a good buy.
That concludes my top ten estate sale shopping tips. I hope you will give estate sale shopping a try. It is truly an amazing way to score beautiful items for your home while on a budget. I get so many compliments on items I picked up from the sales. I love that my home features one of a kind items that really make it my own space unlike anyone else's. Exploring my creativity is really the most rewarding part of estate sale shopping. Let us know what treasures you find at your first sale!